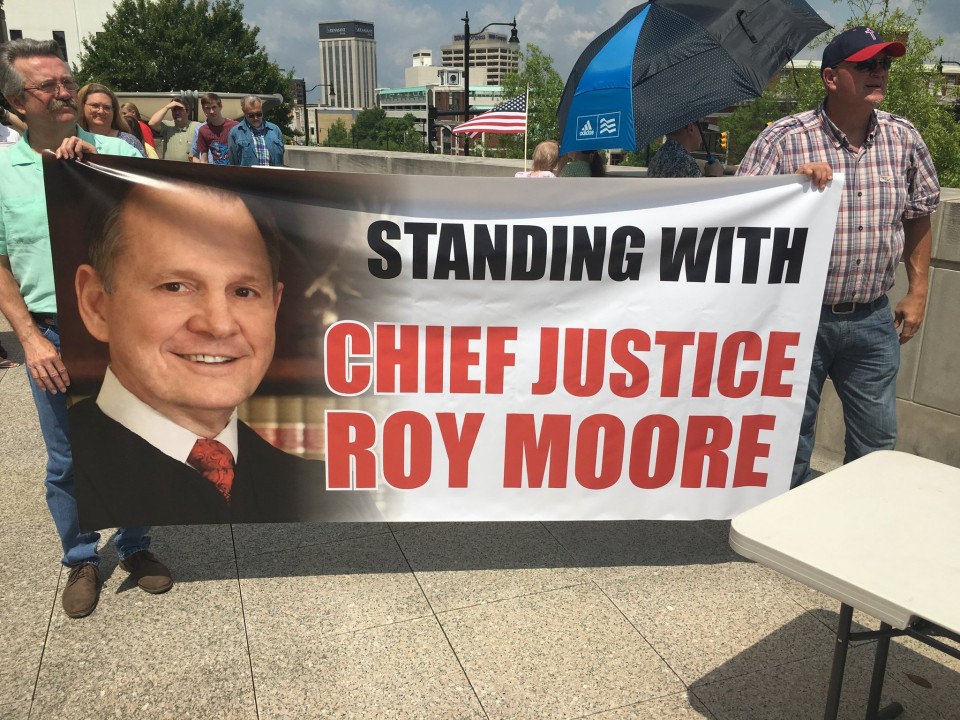 Just got back from Montgomery, Alabama to support Chief Justice Roy Moore. Once again, he finds himself at odds against the perverse, lawless, and depraved powers of darkness. We have stood with him every step of the way and by God's grace, we will continue.
Chief Justice Roy Moore is acting as a shield to protect churches, businesses, and the citizens of Alabama and America from the homosexual juggernaut that does not just seek equality, but supremacy. An open "gay" member of the Alabama Congress, recently made this statement in the press, "The church represents a danger to children's minds." Her, along with the usual suspects, Southern Poverty Law Center an ACLU, are targeting Moore for simply upholding the law and obeying his oath of office.
Moore is one of the few man who will not back down. If they succeed against him, who will be left to stand in the gap? With all dispatch, please follow this link 
Stand with Moore
. We need folks calling and writing the powers that be to drop this inquisition that was started by a 43 three year old man who identifies as a drag queen. Complete with high heels, make up, dress, and a blonde wig, this very confused man has convinced the Judicial Commission to remove Moore from office, hold a trial with the hopes they can remove him permanently. We cannot afford to sit back and do nothing.
Martin Neimoller, famous German pastor, who resisted Hitler gave a powerful statement on how the Nazis came for different groups, but because people were not part of the groups, they did not take a stand. After all groups were gone, there was no one left to stand.
Here is the modern day version:
The Fascist homosexual agenda came for the bakers, but I did not speak out, because I was not a baker.
They came for the florist, but because I was not a florist, I did not speak out.
They came for the photographer, but because I was not a photographer, I did not speak out.
They came for Chief Justice Roy Moore, but because I was not a judge, I did not speak out.
Lastly, the Fascist homosexual agenda came for me and there was no one left to speak or stand.
God forbid, America repeat the same folly. Rise up, click on the link above, and do what you can to pray, spread the word, call, and write. Thanks and keep pressing on saints to the high call and prize.
National Press Release Supporting Chief Justice Roy Moore 
MONTGOMERY, Ala., May 19, 2016 /
Christian Newswire
/ — On Saturday, May 21st, at 11 AM in Montgomery, Alabama, a rally will be held to support Chief Justice Roy Moore, marriage, The United States Constitution, the Alabama Constitution, and the rule of law. It will be held at the Alabama Supreme Court, 300 Dexter Ave, Montgomery, Alabama 36104.
Rev. Rusty Lee Thomas, National Director of Operation Rescue/Operation Save America, will be one of the speakers to address the rally. Rev. Thomas's message is as follows:
The prophet Isaiah warned, "Woe to those who call evil good, and good evil; Who put darkness for light, and light for darkness; Who put bitter for sweet, and sweet for bitter (Isaiah 5:20). Our nation has long rejected Biblical truth and we labor now under a stupor of delusion. When good becomes evil, it should not be surprising that the good guys become the bad guys. The movie Robin Hood states our current situation well, "In the days of lawlessness, those who keep the law become the outlaw."
Our federal government for decades has been codifying evil into law. In the name of new federal values, they are destroying Christian and family values. In the name of government, they betray their sacred trust as government. In the name of the Constitution, they violate the Constitution. Under the color of law, they impose lawlessness upon the citizens of America and upon the great state of Alabama.
Our federal government continues to make straight what God has called crooked, turn moral wrongs into civil rights, and demand that "We the People" tolerate the intolerable. In the midst of this tyranny and moral anarchy, God has raised up a champion, none other than Chief Justice Roy Moore.
As a Lesser Magistrate, Chief Justice Roy Moore, is standing in the gap between federal tyranny and the life, liberty, and property of the citizens of Alabama and our nation. It is my sincere prayer that his example will spread like wild fire to inspire governors, state legislators, sheriffs, and other lower magistrates to rise up with one voice to say no to the federal beast, place the chain back on our federal government, restore law and order, and reestablish the checks and balances necessary to secure a future and hope for our nation in Jesus' mighty name