Here is the design for our new T-shirt for our "Let Justice Roll" event in Montgomery. We worked out a good deal to keep the price at $10.00 per shirt. The order has been submitted and the T-shirts will be ready to go soon.
This will be part of our uniform as we march into Montgomery under the banner of our Lord Jesus Christ. Amos 5:24 is our marching orders and we will trust that God will watch over his word to perform it in Jesus' name!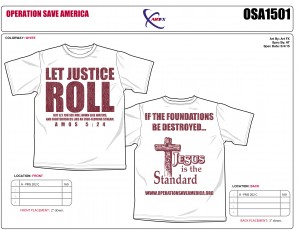 Montgomery's Church Packet
Operation Save America
P.O. Box 740066
Dallas, TX 75374
Website: www.operationsaveamerica.org
Email: rusty@elijahmin.com 
Dear Pastor and/or Christian Servant,
The Lord richly bless you! I pray this communication finds you well, always abounding in the love and work of our Lord (Hebrews 6:10). The purpose for this communication is to inform you of our upcoming national event in Montgomery, Alabama. The scheduled dates for this national event are July 11-18, 2015.
Alabama has five remaining death camps (abortion mill) defiling your state. OSA believes that abortion will come to an end in America when the Church of Jesus Christ makes up her mind it will come to an end― and not one second sooner. We are asking you to join with us in helping to make your state abortion free.
We have this assurance from God's Word, the gates of hell will not prevail against the Church of Jesus Christ (Matthew 16:18). When we cry out to God in repentance, we give Him an opportunity to demonstrate His mercy, forgive our sins, and bring the healing to our broken, wounded land. (2 Chronicles 7:14). Our call is to stand in the gap and make up the hedge, lest our nation continues to suffer from God's judgments (Ezekiel 22:30, 31).
Most of our leadership are pastors of local congregations or traveling ministers who value and recognize the authority of the local church. We seek to work through God's church for His glory and the benefit of His little ones made in His image. We humbly seek your amen, covering, and blessings as we are determined to spend and be spent in the battle for men's souls, the lives of children, and for the future of our nation.
The abortion industry can cannot long endure in your city, state, or nation when the theology of the church house becomes biography in the streets. Our ministry knows this to be true. In 1991, at the zenith of the abortion holocaust, there were over 2,300 free standing abortion mills in America. Today, by God's grace, there are about 550 left. The battle is being won as gentle Christians live out their faith at the exposed areas of their cities.
OSA employs only Biblical principles and stands upon God's Word. We are not a protest group. We are a praying, praising, worshipping, proclaiming, providing, and protecting ministry that conducts church at the very place where God's precious image bearers are being slaughtered― the local abortion mill.
Our righteous goal is to return to Almighty God and His commandments that He may once again make America "a city of a hill" and "a light to the nations." If you find any merit in this opportunity or have any questions, do not hesitate to contact us. We know God has friends in every city. We believe there are still men of God, like the tribe of Issachar of old, that understand the times and know what the church should do (1 Chronicles 12:32).
If you are willing, OSA would love to have the honor to partner with you as we seek to rescue those unjustly sentenced to death and to speak for those who cannot speak for themselves (Proverbs 24:11, 12; 31:8, 9). We pray that we can come together for a time such as this to "do justice, love mercy, and walk humbly with our God" (Micah 6:8).
SOLEMN ASSEMBLY
"Blow the trumpet in Zion, Consecrate a fast, call a sacred assembly; Gather the people,
sanctify the congregation, assemble the elders, gather the children and nursing babes; Let the bridegroom go out from his chamber, and the bride from her dressing room. Let the priests, who minister to the LORD, Weep between the porch and the altar; Let them say, "Spare Your people, O LORD, And do not give Your heritage to reproach, That the nations should rule over them. Why should they say among the peoples, 'Where is their God'" (Joel 2:15-17).
On Sunday evening, July 12, 2015, at a location (local church in Montgomery, AL.) and time to be announced, Operation Save America will host a Solemn Assembly. In obedience to Joel 2:15-17, we are calling for a city wide time of prayer and repentance for our personal, church, and national sins.
This gathering is crucial. It sets the spiritual tone for our entire week of street activities. We are seeking first to remove the plank from our own eye, before we seek the Lord to remove the high places and exposed areas in the city of Montgomery. We desire to not only confess and repent of our sins, but to bring forth fruits worthy of repentance.
Three local pastors, will be leading out in prayer. Afterwards, we will break up the congregation into smaller groups to cry out to God to remember mercy in the midst of His judgments. Our nation has committed child sacrifice, the shedding of innocent blood and paraded our sins like Sodom. We are collapsing from within as our enemies seek to attack us from without. We need the Lord to hear our cry, forgive our sin, and bring healing to our broken, wounded land.
With all dispatch, please mobilize your church for this important gathering in Jesus' name!
Click here to see the Featured Speakers