Operation Save America is gearing up for our next great adventure in serving the Lord. From July 11th-18th saints from across America, coupled with the local church in Montgomery, Alabama will participate in Operation Save America's national event, Let Justice Roll. The theme is based on Amos 5:24, which states, "But let justice roll down like waters, and righteousness like an ever-flowing stream" (NASB).
To help prepare the way of the Lord as we set our face like flint towards Montgomery, we are consecrating three days for prayer and fasting. This call is sent out to those who are coming to Montgomery and to those who cannot make it, but are with us in spirit. This special time, set apart, is extremely important as we seek to advance the Gospel of the Kingdom against the gates of hell. We must obtain God's blessing, favor, and an open heaven to achieve kingdom success.
The book of Acts reveals that before the Holy Spirit came in power, the people of God were in one accord. We know from scripture and from experience that when God's people get lost in the vision and mission of God, unity commands a blessing and that blessing is "life forevermore" (Psalms 133). Unity is not a root obtained by pursuing it, but a fruit, a gift, that God grants His people who obey Him.

We also are well aware that the church cannot win this battle in the arm of the flesh. It is the anointing that destroys the yoke. "Not by might nor by power, but by my Spirit, says the LORD Almighty" (Zechariah 4:6). The same Holy Spirit that empowered the early church to face and overcome the evil of their day, is the same Holy Spirit we need to do the same in our day. The Apostle Paul declared, "And my speech and my preaching were not with persuasive words of human wisdom, but in demonstration of the Spirit and of power, that your faith should not be in the wisdom of men but in the power of God" (1 Corinthians 2:4, 5). If the Apostle Paul needed this empowerment to be effectual, how much more do we?
Moreover, we need to employ every spiritual weapon and godly principle God has granted His people to be effectual in His service. Most of you know that when we "take it to the streets," we incorporate the high praises of God, the intimate worship of God, prayers, intercessions, travail, and the blessed proclamation of the Gospel of the Kingdom. As we do these things, we trust that God will watch over His Word to perform it, with mighty signs and wonders following (Jeremiah 1:12; Mark 16:20).
To add to this arsenal, it is vital to include the prayer of agreement. "Again I say unto you, that if two of you shall agree on earth as concerning anything that they ask, it will be done for them by My Father in heaven. For where two or three are gathered together in My name, I am there in the midst of them" (Matthew 18:19-20).
To help fulfill this admonishment from our Lord, we have put together a prayer guide based upon the book of Psalms. Historically, the book of Psalms has served as the hymnal and prayer guide of the church. It covers the gamut of human endeavors, human emotion, and human predicaments as it relates to God and His will on the earth. It ranges from high exaltation of praise to deep sorrow to cries of justice against God's enemies to celebration of great victories.
 Practically, there are 150 Psalms that we will divide into three days; 50 Psalms each day. We will take one or two key verses from each of the Psalms and use them to guide and inspire our prayers. 1 John reminds us of the importance of praying God's Word. 1 John 5:14, 15 states, "Now this is the confidence that we have in Him, that if we ask anything according to His will, He hears us. And if we know that He hears us, whatever we ask, we know that we have the petitions that we have asked of Him." Just know, you are not limited by these scriptural references, but I would encourage you to use the book of Psalms as your guide during this appointed time of prayer and fasting.

Another key point as you begin this journey, one aspect of true intercession means "to take the place of." God's Word admonishes us to be a voice for the voiceless (Proverbs 31:8, 9). This we intend to do on the streets of Alabama. This time of prayer and fasting, however, will also be utilized to be the voice of the preborn. The preborn cannot pray for their plight, but we can. This kind of intercession will prayerfully prepare the way to intervene and save their lives. Some of the Psalms chosen capture the cry of the oppressed who desperately need God's intervention. Use these Scriptures to provide the cry on the behalf of the preborn. In other words, if you were in their predicament, how would you pray?
Initially, the plan was to copy and paste the Scriptures to provide easy access to pray. The plan changed. It would be more beneficial, if we took the time to look up these Scriptures, meditate upon them, and then incorporate them into prayer. We pray the Lord grant the grace and time needed to fulfill these three days of consecrated prayer and fasting. May we also see the results of this special time manifested throughout Alabama as we go to stand in the gap and make up the hedge in Jesus' name!

Day One (Psalms 1-50)
Psalm 1:6; Psalm 2:10-12; Psalm 3:7-8; Psalm 4:2; Psalm 5:11; Psalm 6:4; Psalm 7:1-2 and 9; Psalm 8:2; Psalm 9:3 and 9; Psalm 10:8 and 14; Psalm 11:5 and 6; Psalm 12:5; Psalm 13:1-2; Psalm 14:7; Psalm 15:5; Psalm 16:1; Psalm 17:8-9; Psalm 18:3; Psalm 19:7-9; Psalm 20:6-8; Psalm 21:4; Psalm 22:20; Psalm 23:4; Psalm 24:7; Psalm 25:19-20; Psalm 26:9-10; Psalm 27:1, 2, 10, 12; Psalm 28:1-3; Psalm 29:11; Psalm 30:1-3; Psalm 31:20; Psalm 32:7; Psalm 33:10-12; Psalm 34:16-18; Psalm 35:1-9; Psalm 36:11-12; Psalm 37:9-15; 32-33; 35-36; Psalm 38:12; Psalm 39:12-13; Psalm 40:13-14; Psalm 41:1-2; Psalm 42:1-3, 9-11; Psalm 43:1; Psalm 44:23-26; Psalm 45:7; Psalm 46:10; Psalm 47:3; Psalm 48:9-10; Psalm 49:15; Psalm 50:15, 23.

Day Two (Psalms 51-100)
Psalm 51:10-14; 17; Psalm 52:4; Psalm 53:6; Psalm 54:1-7; Psalm 55: 16; Psalm 56:1-2; Psalm 57:6; Psalm 58:6-7; Psalm 59:1-2; Psalm 60:11-12; Psalm 61:1-2; Psalm 62:7-8; Psalm 63: 10-11; Psalm 64:2-8; Psalm 65:2; Psalm 66:3; Psalm 67:1-4; Psalm 68:1-2; Psalm 69:14-15; Psalm 70:1-2; Psalm 71:4; Psalm 72:12-14; Psalm 73:17-19; Psalm 74:22-23; Psalm 75:10; Psalm 76:10-12; Psalm 77:9; Psalm 78:58; Psalm 79:5-13; Psalm 80:3; Psalm 81:13-14; Psalm 82:4; Psalm 83:1-3; Psalm 84:9-11; Psalm 85:4-5; Psalm 86:14-16; Psalm 87:5; Psalm 88:2-3; Psalm 89:13-18; Psalm 90:17; Psalm 91:11-12; Psalm 92:12-15; Psalm 93:5; Psalm 94:20-23; Psalm 95:8-9; Psalm 96:13; Psalm 97:3, 5, 10; Psalm 98:1; Psalm 99:4; Psalm 100:3.
Day Three Psalms 101-150
Psalm 101:8; Psalm 102:19-20; Psalm 103:6; Psalm 104:35; Psalm 105:15; Psalm 106:37-41; Psalm 107:20; Psalm 108:13; Psalm 109:30-31; Psalm 110:1-3; Psalm 111:7-8; Psalm 112:1-2; Psalm 113:7-9; Psalm 114:7; Psalm 115:1; Psalm 116:3-4; Psalm 117; Psalm 118:17; Psalm 119:126; Psalm 120:1; Psalm 121:7-8; Psalm 122:3-5; Psalm 123:3-4; Psalm 124:6-8; Psalm 125:2; Psalm 126:5-6; Psalm 127:3-5; Psalm 128:3-4; Psalm 129:4; Psalm 130:4; Psalm 131:3; Psalm 132:8-9; Psalm 133:3; Psalm 134:1; Psalm 135:8-10; Psalm 136:1; Psalm 137:7; Psalm 138:7; Psalm 139:13-16; 23-24; Psalm 140:1-4; Psalm 141:9-10; Psalm 142:6; Psalm 143:12; Psalm 144:11-12; Psalm 145:4; Psalm 146:7-9; Psalm 147:6; Psalm 148:1, 11; Psalm 149:6-7; Psalm 150:6.
OSA Denounces Supreme Court Decision on Homosexual Marriage
The Supreme Court, who is not supreme, has made a conscious decision to uphold and protect what God considers an abomination at the expense of our freedoms.
The fascist elements of the sodomite agenda just received the green light to use this ruling to set up, persecute, and go after Bible believing Christians who will not bow to this perverted idolatry.
For my brethren who grieve, truly understand the implications of this ruling, and know its destructive impact upon our future, now is the time to consider our Lord's admonishment, "If anyone is ashamed of me and my words in this adulterous and sinful generation, the Son of Man will be ashamed of them when he comes in his Father's glory with the holy angels" (Mark 8:38).
With this ruling, they not only want us to make us ashamed of Father's Words, but to punish us for obeying His Words. Our duty, however, is clear, "We must obey God rather than men." In the midst of this kind of tyranny God calls us to trust Him and continue to do good, even if our good may be now considered a crime.
This is no time to be faint of heart. We cannot and must not deny our Lord in the midst of this spiritual and moral treachery that continues to be unleashed upon nation.
The Apostle Paul admonished us, "Watch, stand fast in the faith, be brave, be strong" (1 Corinthians 16:13). Keep your eyes on the prize and press on to the high calling in Jesus' name!
Operation Save America PSA Announcement
God makes everything beautiful in His time. Our OSA National Event T-shirts are now available. Many of you have requested orders. Please contact: info@operationsaveamerica.org to order your uniform for Montgomery. They are ten dollars, plus shipping and handling. They come in white or heather.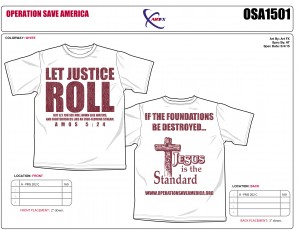 Host Churches for OSA National Event
"To the intent that now the manifold wisdom of God might be made known by the church to the principalities and powers in the heavenly places" (Ephesians 3:10).
I bring you good tidings of great joy. Today has been a red letter day for OSA's "Let Justice Roll" National Event. God is answering our prayers in specific detail. Thanks to all who are doing the heavy spiritual lifting through prayer as we set our face like flint towards Montgomery.
The first shots have crossed the bow. Those who work in the abortion industry revealed they are on "high alert." Several news articles have been written announcing our plans to advance the Gospel of the Kingdom against the gates of hell in Alabama. Some of the usual media templates (accusing us of violence, disruptions, etc. ) that seeks to put us in a bad light have not been successful. The churches and the local Christians have been tried by it, but they are still standing strong in support. Spiritually, this is an encouraging sign. Whenever the world draws a line and the church crosses it, God's blessings, power, and presence increases. We are witnessing some of this phenomenon even as I write.
In light of the controversies, one of the main influential, gatekeeping churches in Montgomery called Fresh Anointing gave me a call. This was the church who opened the door to their old building that is rented by Covenant Ministries International to host our rallies. They called to see if we can have our opening rally with Chief Justice Roy Moore at their building. This was an unexpected blessing. I responded in the affirmative and then asked if they would be open to host our Sunday Solemn Assembly Rally as well. They stated, "YES!" To have their covering, blessing, and support to kick off our week in Montgomery is welcomed and received with much gratitude.
Between Chief Justice Roy Moore who represents civil authority combined with some of the main spiritual fathers of the city, who represent church government endorsing OSA, God has favored us. So, for our opening rally on Saturday, July 11, and our Solemn Assembly on Sunday, July 12, we will meet at Fresh Anointing. Their address is 150 E. Fleming Road, Montgomery, AL 36105  Phone: 334-613-3363  Email: info@anointedchurch.org.
For the rest of the rallies from Monday night, July 13, through Friday night, July 17, we will be meeting at Covenant Ministries International. Their address is 4870 Woodley Road, Montgomery, AL.
Pray for these churches. You know how the enemy will try to stir up trouble and put pressure on them to disassociate from us. Whenever God's people deals with Satan's crown jewel, child sacrifice and the shedding of innocent blood, retaliation is inevitable. Let us continue to press in with prayer, fasting, and trust God that He will do exceedingly, abundantly, above all we can ask or think according to His power at work in us and through us in Jesus' name!
 Progress Report
It has been an action-packed time coming back to Montgomery to prepare for our national event. It can be described by one word, favor. Thanks to all who took the time to intercede. Your prayers were effectual and came to pass with regularity.

Before coming to Montgomery, my wife, Kendra, recently sent out this photo of Moses as it related to the battle against the Amalekites. She sent it out with the call to pray. As you may recall, the
Amalekites came out to war against Israel. Moses commanded Joshua to pick out some good soldiers and engage them in battle. Moses promised to be on the mountain top with the rod of God in hand. As long as Moses' arms were lifted, Israel prevailed in battle. When his arms became weary and drooped, the enemy prevailed. Aaron and Hur recognizing the significance of the true nature of the battle came to the aid of Moses. They set up a stone, sat Moses upon it, and proceeded to lift up his arms till the battle was won. Hallelujah!
She prayed according to these Scriptures just before returning and lo and behold, Ante and Kathy Pavcovick showed up to help support the Kingdom work in Montgomery. It was a blessing to be with them and an answer to prayer. Thank you Lord!
The first morning started at a Christian radio station. We recorded a PSA announcement to promote the "Let Justice Roll" event. They charged us for thirty spots through the month of June and gave us seventy more spots free. Altogether, there will be one hundred spots calling God's people to the battle for the souls of men, the lives of children, and the future of our nation. The following is the message that will go out through the airwaves.
OSA PSA
America is in trouble.
Our government cannot save us.
From whence cometh our help?
Almighty God!
Montgomery stands at the threshold of victory.
There is one abortion mill remaining defiling the city.
Montgomery can become an abortion free city.
Impossible?
All things are possible with God.
To those who know Christ's salvation, you have come into the Kingdom for such a time as this.
Come join Operation Save America for their "Let Justice Roll" national event from July 11-18, 2015
The salt will come out of the shaker and the light from under the bushel to love God and to love our neighbor as ourselves.
There will be street activities each day and rallies each night hosted by Covenant Ministries International Church.
For more information: www.operationsaveamerica.org or call (254) 715-3134
From there, it was off to a pastor's meeting. Typically, very few pastors show up, especially, when they know OSA will be participating. I'm here to report that this was not the case in this instance. In fact, the meeting doubled in normal participation. There were over thirty pastors/leaders in attendance. We prayed together as a group, ate lunch, a few brother shared some opportunities to minister together and then the door opened to speak on the vision and mission of "Let Justice Roll."
To our amazement, we did not have enough pastor packets. They all went immediately. We also came with about three thousand brochures. We left with about three hundred. Needless to say, we found favor with these pastors. Two of them represented the largest churches in Montgomery. The brother who hosted the meeting is a pastor to these pastors. He is considered a spiritual father and gatekeeper in Montgomery. The Holy Spirit bore witness to his spirit that this was of the Lord and that he personally was going to support us and challenged the other pastors to do likewise.
Afterwards, it was off to film a TV spot to promote the event. It was at the Frazer United Methodist Church. Yes, there are still some orthodox Methodist churches that have not completely apostatized. They promised to run the spot from now till our event in July.
Later that night, a conference call was set up with the local brothers in Huntsville, AL. We plan on sending a team to Huntsville on one of the days during the national event. These brothers are helping to make this happen. A church will host a rally. Local churches will be invited to participate. Scott Heldreth and Cal Zastrow will minister at the evening rally. The locals will lodge our team. The next morning the team will lead the church to the gates of hell. There are three venues planned and then the team will return to Montgomery for the Friday night rally.
The next morning it was off to the death camp. The deathscorts filmed our every move and word. The resident atheist, Michael, greeted us and proceed to give his moral opinions, while having no basis for morality, since he denies the existence of God.
After a few minutes, the pastor's wife, Miss Callie, showed up and I asked her to grant me a moment of her time. She graciously complied. With introductions out of the way, I asked her, "What are we going to do Miss Callie with this awkward situation?" She replied, "You need to take that up with God. He placed me here." My response, "Miss Callie, we have hundreds of Christians coming to Montgomery and I want to cast a vision." The exchange seemed to interest her a bit. Suddenly, her police officer son, Jerome, who moonlights as the security guard, aggressively pulled up. He made his mother go in the death camp, which abruptly ended our dialogue.
Afterwards, we went to spy out the land to find locations for the event. As we were driving along, we went by the church, where the pastor's wife and son attend. We pulled into the parking lot. No one was there. This church was in the hood and we noticed some men hanging out. We went over to them and asked questions about the church. We proceeded to expose the evil this church supported. As we were ministering to them, one of the members of the church pulled up.
I could tell he had been drinking. We had a heart to heart talk. He confessed the church was dying and he was thinking about leaving. I told him, "The church was dying because they were spreading death and not the Gospel. God is removing your candle stick." If they don't repent, we challenged him to flee from this place. We pleaded with him to get his life right with God through the merits of Jesus Christ and go to a God honoring church that obeys God's word.
Amazingly, the neighbors directed us to the pastor's house, which was close to the church. David Day and I went to the door and knocked. Eventually, Pastor Chatman came to the door. For the next 15-20 minutes we challenged him as a husband, father, and pastor to lead his family out of darkness and back to the marvelous light of God's Kingdom.
During the exchange, we did not perceived any resistance, animosity, or defiance. He listened to God's Word. Some of his response may be due to the matriarchal system that runs rampant in the black community. Most of the time it is the women who rule, while the men passively submit. Regardless, the vision that we tried to share with Miss Callie, God granted us the opportunity to share with her husband and pastor of the church.
First, we shared this scripture:
Do not be unequally yoked together with unbelievers. For what fellowship has righteousness with lawlessness? And what communion has light with darkness? And what accord has Christ with Belial? Or what part has a believer with an unbeliever? And what agreement has the temple of God with idols? For you are the temple of the living God. As God has said: "I will dwell in them
and walk among them.

I will be their God,

and they shall be My people."

Therefore

"Come out from among them

and be separate, says the Lord.

Do not touch what is unclean,

and I will receive you."

"I will be a Father to you,

and you shall be My sons and daughters,

Says the L

ord

Almighty."
We told him that his wife and son claim the name of Jesus and yet work at a death camp that murders God's children for blood money. This is an unholy alliance that must be broken in Jesus' name! It has only serve to dull the Gospel witness being presented to those who are being deceptively led astray to do the unspeakable to their own babies. His wife and son provide religious cover and justification to violate God's Holy Commandment, "Thou shall not murder!"
We asked him and his family to repent and then invited them to our rallies during our national event. We told him a whole new world awaits him, if he would muster the courage and humility to make this right with God. We assured him the Body of Christ would embrace, love and support them, while their act of obedience would strike a blow against the evil afflicting Montgomery.
He promised to "pray" about it and was willing to receive a Maafa 21 DVD. David Day is going back to deliver the DVD. Please pray for this situation. We trust God will watch over His Word to perform it in Jesus' name!
On Saturday, the door opened to meet with our host church. It is called Covenant Ministries International. They are located at 4870 Woodley Road, Montgomery, AL. From there, it was off to meet with the Birmingham saints who are helping to prepare our way into their city. The plan is to come in Thursday morning, confront the death camp, do a tour of closed abortion mills, pay tribute to David Lackey who faithfully fought the battle and went home to his eternal reward.
Sunday morning it was off to church and catch up with Ben Dupre. This brother has been a major blessing to assist in our efforts. His pastor has agreed to be one of the men of God that will help lead our solemn assembly on Sunday night, July 12, 2015. We are grateful for his participation.
After church, we held our final meeting with the locals to discuss the remaining details left to accomplish before our national event. We make our plans, but we are trusting God to direct our steps. We do not want to miss one iota of His good will as we seek to be led by His Spirit. Keep praying, fasting, and stirring up the gifts within you as we set our faces like flint towards Montgomery. Let His Kingdom come and His will be done in Jesus' name! Amen!