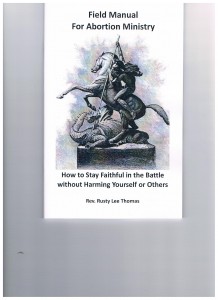 Our newest booklet is available. For a free copy or copies, email me your address at rusty@elijahmin.com.
Elijah Ministries
"To make ready a people prepared for the Lord."  (Luke 1:17)
Dear Champion of the Lord and the Preborn,
Stand With New Christian/Pro-life Film, Voiceless
As you know, the medium of "film" has had a dramatic impact on the development of American culture. Not only has "watching movies" become one of America's most popular past-times, it also has become one of society's most powerful pulpits. One doesn't have to look far to see the commanding influence that "Hollywood" has had, not just on those outside the church, but on literally every demographic of people inside the church as well. Sometimes edifying, but most of the time negative.
Since the plight of the preborn is critically important to all of us, I want to bring to your attention a Christian/Pro-life project that has been in development over the past 24 months. It's a theatrical production about one man's mission to do more than "talk", but to actually take a stand for God by mobilizing, energizing, and inspiring his church to stand against abortion. The film is called "Voiceless".
"Voiceless" is about a young, reserved, war veteran, who moves to Philadelphia to take a new ministry job and ends up putting everything on the line to stand against an abortion clinic that moved across the street from the church.
"Voiceless" is unique in its message, speaking loudly to all who live amidst our modern day holocaust, but more importantly, it speaks directly to the body of Christ and their obligation to stand in the gap. A few Christian/Pro-life movies have been shown in theaters before. Yet this film takes its theme beyond the norm. It's not about Roe vs. Wade, it goes beyond forgiveness and it doesn't discuss the scientific proof that the preborn child is "real" (as if they didn't know until science told them). It actually goes much further and encourages people to get involved in the battle to plead the case of the fatherless to win it (Jeremiah 5:28).
This leads me to the reason for this communication. This project is something I feel is a "must" to stand behind. Not just by praying (though please pray) or "promoting" per se, (though please promote) but also by exhorting other Christian/Pro-life advocates to get behind this project.
Once in a while we get to deal a devastating blow to the enemy, where with one swift punch we can communicate our message, reveal the battle, and ultimately draw people to action. This is one of those opportunities. "Voiceless" will be shown internationally in theaters then eventually on DVD, but only if the Christian/Pro-life movement stands behind this film. This means us!
The Producers of Voiceless are looking to join forces with other Christian/Pro-life ministries to help get the word out. As we come alongside them, not only can we make a bigger difference in the fight for these baby's lives, but we can put a stake in the ground for God right in the midst of society, regardless of politics or what incremental "pro-life" laws are passed.
So, with all that said, will you consider getting involved? It's so simple and there's no obligation. You just need to go to www.voicelessthemovie.com and do a couple of quick things. First, watch the two, 5-minute videos on the homepage. These sharply and succinctly share the vision of the film. Next, click the "get involved" link. Once you do that, you'll be asked to fill out some information so you then can receive a special email that will get you started. That's it. There's nothing more required.
Please go to www.voicelessthemovie.com right now and take those two simple steps. Join me and the producers of this film as we become a literal voice and "action" for the voiceless preborn.
Thanks for all you do in the cause of Christ and His little ones. "Voiceless" will greatly appreciate your support!
IN KING JESUS' SERVICE,
Rusty
P.S. Can you pass this letter on to your mailing lists? Also, by God's grace, I have been cast to play one of the supporting roles in the film. Would appreciate your prayers as we move forward to make this film. Thanks!
States of Refuge Intro
Articles published by American Daily Herald      
 Our newest book is ready. Order your copy today. 
Yesterday with great joy we received the first order of our newest book, Abortion Violation: America's Premiere National Security Issue. You can order from the link above on Tate Publishing's website or you can order directly from us. if you plan on getting more than one copy, it would be better to order from us. Here is the breakdown of the discounts.
1 book-$25.00 plus shipping
3 books-$22.00 a copy, plus shipping.
5 books-$20.00 a copy, plus shipping
10 books or more-$18.00 a copy, plus shipping.
This has been a labor of love. It will not only upset the pro-aborts, but others as well. Theologically, it pulls no punches. We pray the Lord use this book to touch hearts, change minds, and help defeat the culture of death savaging our nation in Jesus' mighty name!
If or when you read it, could you write us a short testimony or endorsement to help promote the book abroad? It will be released on the national stage June 25th. It will help for folks to write reviews once it hits Amazon and other outlets as well. Thank you!  
  To help support the ministry, press the Make A Donation button. 
Operation Save America
IN KING JESUS' SERVICE,
Rev. Rusty Lee Thomas
Elijah Ministries is dedicated to impart a Biblical Worldview to the Church of Jesus Christ that will provide the theological impetus to fulfill the Great Commission.

Elijah Ministries is devoted to challenging Christians everywhere to pray, believe, and work for repentance, reformation and revival to sweep America.

Reform the Church to restore America is our battle cry! No king, but King Jesus and may God be pleased to save America!