Love Life Report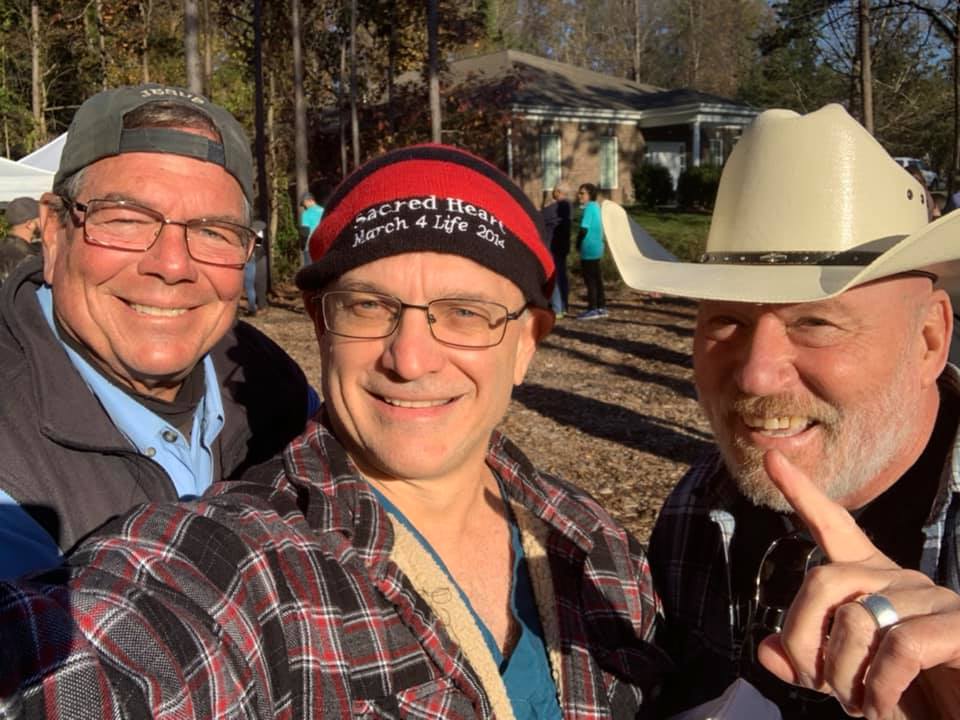 Brother Flip, Dr. Matt Harrison, and I at the Love Life Outreach
Well, the trip from Waco, TX to Charlotte, NC was long, but well worth it. These long ministry trips are my "Tent of Meeting" times with the Lord. It is a concentrated time to worship, praise, pray, and listen to His Holy Word.
Upon arrival, it was time to break the fast, enjoy some vittles, and have some sweet fellowship with my family and dear friends. The next morning it was off to a familiar place, the notorious death camp called Latrobe. The last time we were there the pro-aborts blew trumpets in our ears as we sought to preach the Gospel of the Kingdom to set the captives free.
My youngest daughter, Jubilee, was so effective in her broken heart over abortion, hell manifested. The pro-aborts were so enraged, they sought to contact Texas Child Protection Services to remove her from our home. Yikes!
Coming back, I was not sure what kind of reception it would be. Well, let's just say the powers of darkness did not forget. The profanity, cursing, and the wishing of my death and my family's death, to "join Jeremiah" came forth like a fire hose. It was a good time to practice, "But I say to you who hear, Love your enemies, do good to those who hate you, bless those who curse you, pray for those who abuse you (Luke 6:27, 28).
Love Life was of a different Spirit. Where there was death, they sought to bring life. Where there were lies, they sought to bring truth. Where there was darkness, they sought to bring light. The contrast could not be starker.
Love Life and Cities for Life merged in Charlotte recently and the Lord has blessed this partnership. They have physically and spiritually taken much territory. They have surrounded the death camp with an office on one side, and they purchased a good chunk of land right next door on the other side. There is something about possessing the land that dispossesses the enemy's camp. Their days are numbered in Jesus mighty name!
The saints gathered by the hundreds led by their pastors (Love Life has 300 hundred churches that partner with them). It was a glorious sight to behold. Honestly, it was a little overwhelming. When Flip Benham was the national director of OSA, he led us 3 times to the gates of hell in Charlotte. Saints from all over America came to break up the follow ground, plant the seeds of the Kingdom, water it, and behold, we saw massive increase on this trip. To God be the glory.
The ministry set up at the gates of hell consisted of anointed worship, high praise, fervent prayer, and other powerful expressions of the Gospel. About 6 or 7 women testified, with most of their babies with them. One highlight of the gathering came when we were praising the Lord for the great things He had done and one of the little girls who was rescued just danced with all her might before God. It was such a joyous moment that drove home how precious life truly is in Christ.
The rescued women went on to share how they came to Latrobe with the intent to murder their babies and ran into the safe arms of Jesus working through His Church. Some tears were shed as they not only confessed how the church was used to stop the madness of abortion in their life, but also, how the church stood with them and provided all that they needed to care for their families after the child was born. Most of them, I believe, are in church now and being discipled. Praise God!
Another powerful testimony was from a former deathscort, who was a part of the misguided souls that blaspheme, curse, and treat the people of God with great vileness at the Latrobe death camp. One day the Gospel pierced his hard, darkened heart. The Lord, by His Holy Spirit, drew this brother to Himself and translated him out of the kingdom of darkness and placed him into the Kingdom of God's beloved Son. He is now one of Love Life's team leaders ministering the same blessed Gospel that saved his soul. He defected from the enemy's camp and now seeks to plunder it to set the captives free. Hallelujah!
This was a first. Love Life did a live sonogram on a big screen. From a mobile unit they set up a pregnant woman with twins and we all got a huge peek into the womb and saw on screen the beating hearts. From what we understand, at least, one baby was saved, and a family spared the horrors of abortion as the church showed up.
While we were gathering in Charlotte, there were other Love Life gatherings in other cities throughout America. In fact, there were 4 new outreaches in different cities that was launched on the same day. Love life's goal is to have a Christian witness at every death camp throughout America. They have a plan. They are working it and are bearing good Kingdom fruit.
The Love Life leader, Justin Reeder, and his team will be joining Operation Save America this coming January at our winter regional event and our national event this June in Arizona. The dates in January are the 21st-24th. The dates in June are the 19th-26th.
Apologia Church and End Abortion Now will be hosting both events. I promise you; you don't want to miss these gatherings. These are crucial times when young lions filled with vision and mission, from different groups and ministries will gather in the Lord. The holy purpose is to build this Kingdom, abolitionist network to increase the effectiveness of this much needed movement to revive the church, vanquish the evil of abortion, and restore our land in righteousness. Hope to see you there!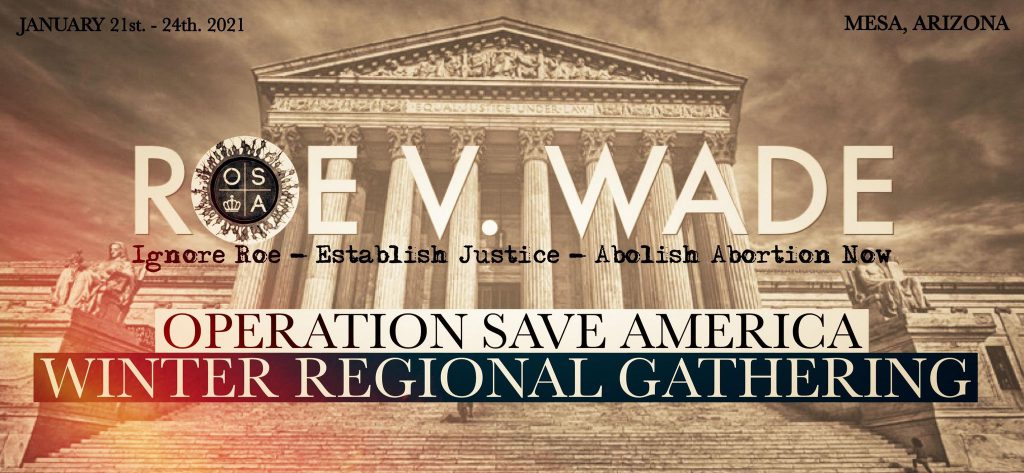 The Shaking of the Nations
For quite some time, we have been warning our nation is at the crossroads. In the tumultuous year of 2020, the evidence of that warning became starker. Regardless of which way the political winds blow or who is in the White House in January of next year, it is clear, a day of reckoning for our beleaguered nation is swiftly approaching.
Will the Lord give what this nation so richly deserves by turning us over to the Marxists? Or will He be merciful and grant us a new birth of freedom, one that secures our Constitutional Republic for a future and a hope? The jury is still out. Notwithstanding, it behooves the church to intercede to seek clemency during this time of national judgement.
The political intrigue in connection to our fraudulent election does not just impact America. It is tied to other despotic regimes throughout the world. Where there is smoke, there is fire. The fire of scrutiny is revealing totalitarian elements throughout the world conspired with the Democratic political machine to steal this election from the American people.
Whether the Trump administration will have a chance to prove that betrayal is an entirely different story. The powers that be are censoring the mounting evidence to convince the American people there is nothing to see. They just want us to move on and pretend all is well, while "something is rotten in the state of Denmark."
Tragically, some know this election was falsified, filled with massive voter fraud, and was rigged towards Biden, but are content to let it slide and demand Trump concede. Can our nation afford to turn another blind eye and deaf ear to another treacherous act and survive as a nation? Something tells me this should not be put off for a later time. It may be too late to recover by then. The damage could fundamentally change America for the worse, at least, for the foreseeable future.
Thankfully, man proposes but God disposes. We may not know what the future brings but we know the One who holds the future. We can trust Him. The powers that be may escape man's justice, however, they will never evade God's justice. Proverbs 19:21 reveals, "There are many plans in a man's heart, Nevertheless the Lord's counsel—that will stand."
Job 5:12 declares, "He frustrates the devices of the crafty, so that their hands cannot carry out their plans." Psalms 33:10, 11 states, "The Lord brings the counsel of the nations to nothing; He makes the plans of the peoples of no effect. The counsel of the Lord stands forever, The plans of His heart to all generations."
Though the Tower of Babel was thwarted by God in the past, covenant breaking men are still prone to insurrection. Since the Fall, men and nations have sought to reach up into the heavens, pull God down from His throne and replace Him by becoming a law and god unto themselves. It did not work for Babel and it will not work for the globalists, elitists, and billionaire despots playing god amongst men and nations today.
The Scriptures affirm that God rules in the affairs of men (Daniel 4:17-32). All authority has been given to Jesus Christ our Lord in heaven and on earth (Matthew 28:18-20). He possesses and dispossesses nations as the earth's landlord. Daniel 2:20-22 declares:
Blessed be the name of God forever and ever, for wisdom and might are His.And He changes the times and the seasons; He removes kings and raises up kings; He gives wisdom to the wise and knowledge to those who have understanding. He reveals deep and secret things; He knows what is in the darkness, and light dwells with Him.
As Christians we have a blessed hope for our future. No matter what befalls this fallen world, God has a redemptive plan that will come to pass in time and history. No wicked plan of men or schemes of the devil can ultimately stop it.
Through this battle, one cannot escape that there is a massive shaking going on in this generation. It is disturbing. It appears great distress is coming upon men and nations. Heart are failing, knees are knocking, and suicide is rising. Nobody is sure what is going to happen. We just suspect it is not good for the future. There is an unspoken foreboding feeling looming over this world.
Amid this shaking, some may ask, "Where is the Sovereign God of heaven and earth?" He is seated at the right hand of the Father, expecting henceforth till all His enemies be made His footstool (Psalms 110:1). This is the most quoted Old Testament passage that is cited in the New Testament. When God repeats Himself in Scripture, it is not because He has a stuttering problem. He does it for maximum emphasis.
There are two verses that I want to highlight that addresses specifically the title of this article, "The Shaking of the Nations." The first one is discovered in the New Testament. It is found in the book of Hebrews. God's Word states:
Yet once more I shake not only the earth, but also heaven. Now this, "Yet once more," indicates the removal of those things that are being shaken, as of things that are made, that the things which cannot be shaken may remain. Therefore, since we are receiving a kingdom which cannot be shaken, let us have grace, by which we may serve God acceptably with reverence and godly fear.For our God is a consuming fire (Hebrews 12:26-29).
Prior to the promise of another shaking in the earth with the additional shaking in the heavens, the Hebrew writer warns we need to take heed. We should not refuse to hear God's Word. If folks did not escape when the Lord spoke on earth, how will we escape, if we turn away from the Lord when He speaks from heaven? Truly our God is a consuming fire, and it is a fearful thing to fall into His hands (Hebrews 10:31).
Notice the reference to the "shaking" in Hebrews is connected directly to the God's Kingdom. The good news is God is going somewhere in and through this mighty shaking. His divine purpose is to shake loose from men and nations everything that is contrary to His loving and just rule, till all that remains is His Kingdom. For Christians enduring this shaking, the Biblical pray, "Your Kingdom come, Your will be done on earth as it is in heaven" should take on greater fervency. The Biblical significance should inspire us to move forward in faith, and not fear (Matthew 6:10).
The second reference of the shaking of nations is found in the book of Haggai. I love this verse. It is absolutely delightful and deeply encouraging. God's Word states, "For thus says the Lord of hosts: 'Once more (it is a little while) I will shake heaven and earth, the sea and dry land;and I will shake all nations, and they shall come to the Desire of All Nations, and I will fill this temple with glory,' says the Lord of hosts" (Haggai 2:6, 7).
In some ways the passage in the New Testament and this one in Haggai have similar meanings, but different ways to express it. Men and nations have passions, desires, and longings that this world just cannot fulfill. Thus, mankind ends up looking for love in all the wrong places. Typically, our passions and desires betray us as lust consumes our lives like a fire. Proverbs warns, "Hell and Destruction are never full; So, the eyes of man are never satisfied" (Proverbs 27:20).
Haggai prophecies that the shaking of heaven and earth will lead men and nations to the "Desire of All Nations." Notice the D, A and N are in capital letters. This designates the phrase as a Messianic title. Our great deliverer, our mighty champion, and the Promised ONE is also known as the "Desire of All Nations." It fulfills the promise given to Abraham. Through him and his seed (Jesus Christ) God will bless all the families and nations of the earth.
The nations right now may not know this is what they are ultimately seeking. They may not recognize yet the holy object of their passions. Their desires may still be held captive by godless lust. The day is coming; however, the present shaking will bring them face to face with the only One that can fill that God-shaped vacuum in their lives. Their earthly desires and passions enslaved by their sinful nature will be transformed by heavenly desires and passions. This is God's promise to the nations of the earth.
This does not mean we avoid difficult days ahead. We may have to sludge through the fallout of this shaking of the nations. Be assured, however, His Church will not be left in that wretched state. God has a plan. It is redemptive in nature. We are going somewhere. Ultimately, it is God's Kingdom that fulfills the Desire of All Nations.
IN KING JESUS' SERVICE,
Rusty